ANALYSIS AND ONLINE MONITORING OF PROCESS WATER PROCESS WATER
ANALYSIS AND ONLINE MONITORING OF PROCESS WATER PROCESS WATER
Regular analysis of the process water and its documentation is inherent in the system and is indispensable.
"Microorganisms, corrosive particles, minerals, suspended solids, other impurities:
The list of contaminants that can occur in process water is extensive. Therefore, it is one of the duties for users of a refrigeration system or a process system in general to treat the water accordingly."
Depending on the application, regular analysis of the process water and documentation of this analysis is also recommended.
L&R works intensively and trustfully with a service provider that has been established for years. On request, the entire management of the water-bearing systems will be taken care of within the framework of the 42nd BimSchV (Ordinance on the Implementation of the Federal Emission Control Act) and the VDI guideline 2047-2. This includes, among other things, carrying out the officially ordered control measurements, monitoring the systems, controlling the product pre-consultation (treatment chemicals) and the independent logistics handling up to the "operator model". In the process, the waste water guidelines are fully complied with.
Online monitoring includes continuous measurement of the relevant parameters. For this purpose, the process water is fed to the measuring device via a bypass. A controller unit records measurement parameters (pH value, conductivity, redox potential, turbidity, etc.) or the concentration of defined substances and controls the dosing pumps accordingly.
This creates the prerequisite for automated and demand-oriented dosing of up to three treatment chemicals.
"The following is included:
the softening of your feed water
corrosion protection dosing
biocide additions or their combination preparations, such as inhibitors to prevent corrosion and germ contamination"
"A significant effect: Should quality problems occur with the cooling or process water, extensive data sets and documentation are immediately available for root cause analysis.
This gives the user additional security and also increases the reliability of the treatment plants."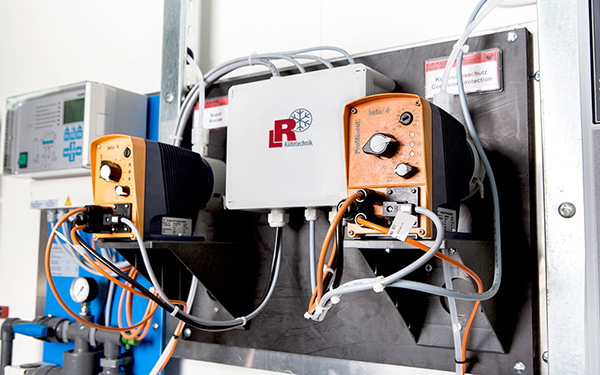 Your contact partner for H₂O technology –
natural water treatment